Zolla founder talks through the trials and tribulations of his third Two Volcano Sprint ultra-cycling race and how it was third time lucky with the win.
Preparation for the race had been erratic, having got married a month beforehand I'd spent more time with my hands wrapped round a pint glass than a handlebar. With 3 weeks to go I finally found the time to start training hard, and knocking the body into shape. It was ambitious but I knew things were going in the right direction when, 6 days before the race I broke my own Strava KOM on a segment I've completed over 150 times.
With an 0500 start on race day, I knew arriving in Nicolosi well rested would pay dividends later on, so 3 days beforehand I boarded a ferry from Naples to Palermo. I was stood on deck looking out over the Port of Naples when I got a call from friend, coach, and rival Robbie Britton telling me that he had decided he was too ill to travel to Sicily and race. The next day I heard that my other old 2VS rival Adrien Liechti would be racing as a pair this year with Sofiane Sehili. That left 'only' Ulrich Bartholomos, from the small group who had lined up to race 2VS solo every year since its inception in 2019, in that year I'd been only a few hours behind him in second place but in 2020 I'd slipped back to 8th place.
Talking to race organiser Juliana Buhring over an Arancino the day beforehand, I told her I wasn't sure what to aim for without my usual targets of Adrien and Robbie to keep my race interesting. Juliana never minces her words: 'Simple, you've just gotta race to win…'
It was great to see all of the usual faces and plenty of new ones, but eating Sicilian pastries in the Dolce Vita cafe in Nicolosi's little piazza was a strange feeling, knowing we were at the start line, not the finish with our usual sense of post-race accomplishment. This year for the first time, the race would run from Etna-Vesuvius, rather than vise-versa.
As 0500 approached on the morning of the 15th, there was the normal mix of excitement and nerves. The mayor of Nicolosi had dragged himself out of bed to say a few words, and then we were off. One rider accelerated off the line, taking the sprint part of the name literally, and I pushed hard to stay close to the front for the first 10 minutes or so. When we'd moved clear of the main bunch, but it became obvious that the pace was not letting up and couldn't be sustainable I slackened off, aware we were less than an hour into what I estimated would be around 65 in total.
After the initial caginess, things got a bit more relaxed, and I spent the rest of the climb talking to Fiona Kolbinger, Colin Smith, and a few others. Near the summit you could see the ice crystals on the road as they mixed with the volcanic ash, and the first descent was freezing cold and treacherous. By the time we climbed Etna for the second ascent, dawn had started to break on what looked like a clear day. The rest of the morning was spent leapfrogging riders and hoping the rain held off, as we climbed the Sella Mandrazza before heading along the coast and then over the island to Messina and the ferry to Reggio Calabria.
Landing on the mainland, we started climbing away from the coast and into the mountains of Aspromonte. It was my third time riding in these hills, but the first time I had actually seen anything of them. In my previous two 2VSs I had spent hours riding through the chestnut forests through the long second night of the race nightmarish leafy tunnels of darkness when not feeling good, but beautiful countryside in the light of day. Riding on, the rain started to fall in mid-evening. It fell like a tropical deluge, but was icy icy cold. My bare legs stung, and my feet went numb, but with nothing else to do I pressed on. Around 10pm I passed through a small town and saw an open cafe with a few riders' bikes outside. I was 100m past it before I made the decision to turn back and get some food. I knew I wouldn't see anything open again until the following morning. It was possibly the best decision of the race, because 5 minutes after I'd walked through the door the storm started out again and this time the rain was even heavier. Steven Lehyaric and Omar de Felice, both known for their cycling expeditions into extreme climates were sheltering inside along with Gautier Bonnecarrere. After about 15 minutes, Lukas Neubeck came in soaked though. We all sat there watching the rain fall, until Omar made the decision that he'd stopped too long and would just have to go for it. We wished him good luck, and carried on waiting. After another 20 minutes or so I set off, and although the road was covered in water I only got a few small rain showers.
The descents were freezing cold and it was one of those nights that I knew no matter how tired I got, there would be nowhere safe to sleep. I passed the time wondering whether it was possible to get frostbite in your feet without there actually being frost, and worked hard on the climbs to try and generate enough heat to keep warm. At 0600 I pulled in to a small village and saw Lukas Neubeck ordering coffee. Stopping to join him, I took my first sleep in 26 hours – about 4 minutes dozing whilst propped against the wall. Thirteen hours of cold and wet darkness is a long time, but I'd felt (relatively) good all night, and eventually the sun began to rise again.
Around 8 o'clock I stopped at another cafe where Juliana, Vito, and James Robertson were waiting for riders. I hadn't checked the tracker all race, so I had no idea until Juliana told me that I was in fourth position on the road and that Ulrich and Omar had scratched due to the bad weather. Climbing back on my bike I knew that the race was wide open and if I rode hard until nightfall, other riders would start to drop and I would find myself at the front. I spent all day pushing on, and riding efficiently – minimising stops to finding water or needing to pee. In the afternoon I passed Alex Kopp on the long climb away from Longobucco. We hadn't seen an open shop for almost 24h, and he had no food left.
A couple of hours later I found a supermarket, devoured a slice of pizza, and topped up the Haribo supplies. Pushing on again, I found Lukas and Christian Englert getting food at a cafe. They hailed me to stop, but the race lead was there for the taking and I pushed on hard. Being out front for the first time since the inaugural edition of the race in 2019 felt good, I put a bit more time into my chasers on the steep inclines of the Pollino mountains but I knew once night fell the sleep monsters would be out for me. With a small time buffer I decided to book a hotel for a super quick sleep. I called ahead and told them I needed to be efficient, and pedalled on with an objective in sight.
I arrived at my hotel in Rotonda, oiled my chain, hosed down my legs, and passed out to sleep 'properly' for the first time in 3 different nights. My alarm went off a shockingly short amount of time later and I got back on my bike. Within an hour I had caught Christian, and we shared the race lead as we climbed to the statue of Christ the Redeemer above Maratea. He hadn't slept, and I knew the race was now mine to lose as his tiredness started to show – missing turnings and starting to make little sense.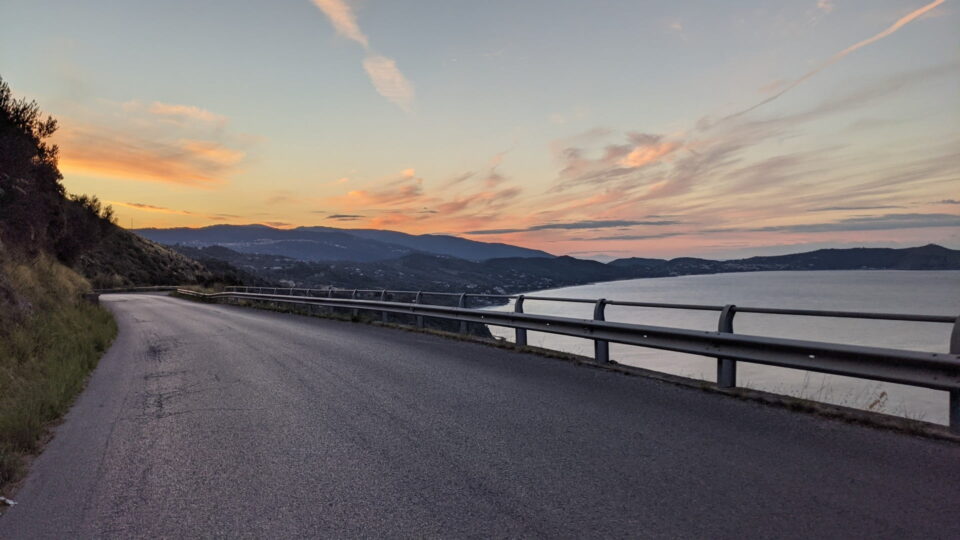 It was still too early to get complacent though, and about an hour later I felt exhausted myself and stopped for a quick nap by the road. It teed me up a bit, but I needed another couple before day finally broke. If I thought the worst was over though, I was wrong. The climb away from the coast, and up Monte Gelbison was about the toughest of the race. Relentlessly steep, and with about 1600m to gain all told, it took all morning. Finally I summited and knew it was largely downhill to the coast, so long as I kept moving I would be hard to beat.
I reached the temples of Paestum early afternoon, and Salerno an hour or two later. A quick pit stop for a McDonalds I would never normally crave gave me a much-needed hit of salty food, my first since the pizza slice 24h earlier. Pushing on, I reached the Amalfi coast. Not a bad way to end a bike race… Or so I thought until I realised that it was a Sunday evening, and the road was chock full with motorbikes determined to kill one, both, or more of us. I did my best to ignore the traffic and enjoy the views. At San Pietro di Positano, Pasquale (who I see every year now as part of Juliana and Vito's race team) came out to cheer me on, and tempt me with a bottle of water (declined as assistance!). I also picked up a paparazzo, which was quite good fun. He waited for me in lay-bys before jumping back on his moped and zipping off down the road to the next spot.
As the Amalfi coast ended and I reached the outskirts of Naples, the traffic got worse, and really started to fray my nerves. Drivers cut me up as I dodged potholes and tramlines, most got short shrift – after 60+ hours with next to no sleep I was not in a mood to be trifled with. Finally after 15% gradients, huge pave set stones, and cars at every turn I started climbing towards Vesuvius. The parcours cruelly took us past the finish line to go up the Volcano, before coming back down and finally being allowed to stop.
A reception committee was waiting to cheer me on, my wife, in-laws, the race team, and the mayor of Ercolano gave me a huge boost as I rode past. Lago the dog went wild, he couldn't understand why I wouldn't stop to say hi after not seeing him for a week, but I couldn't bear the prospect of having to set off again, so I just kept moving. Ulrich Bartholomos, who I've raced with many times before, rode to the top with me, and was frankly no comfort. After what seemed like the thousandth hairpin I was starting to want the top to arrive.
Me: I could do with this climb being over now
Ulrich: Well it's not. Still 2km and 200m climb…
Eventually we made the summit, and turned around for a sedate descent. After so little sleep, I took it gently – it would have been too easy to bin it on a corner this close to the end. Finally we reached the finish line, just as second place Christian Englert was on his way up. I climbed off my bike, and into several plates of pasta. After 3 years of trying, I had finally won 2VS!